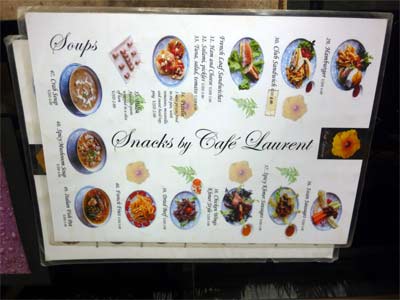 Cafe Laurent
Koh Kong's finest restaurant and bar right on the Riverfront.
Next to the Koh Kong City Hotel.
Cafe Laurent offers a comfortable and relaxed setting right on the river side.

You can seat on one of the covered terraces or in the bar lounge,listening to light music or enjoying the view.
For your drink you can choose between 30 cocktails, different mocktails, beers draft or by the bottle, French, Italian and Chilean wines,
whiskeys, Cognacs and Champagnes.


For your meal the menu lists about one hundred Asian dishes, Khmer, Chinese and Thai with emphasis on sea food.
You can select your fish or crab from the fish tank at the entrance.


The Cafe is well known for its European dishes as well, scallops meuniere or Pizza Siciliana, lamb chops or pepper steak.

Cafe Laurent pastry Chef prepares Opera Cakes, Ambroisie cakes, Profiterolles, Capuccino cakes, and fresh ice creams.
Open 7am to midnight. Free Wi-Fi
Tel: 0888 29 04 10/ 016 37 37 37
e-mail: cafelaurent09@yahoo.com