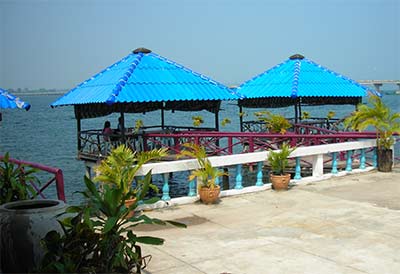 Eat, Drink & Be Merry
Western, Thai, Chinese, German, Australian, Vietnamese & Cambodian
pretty much your choice
Restaurants
Restaurants are all over Koh Kong. Ranging from a rolling cart down the street, Thai restaurants, to the casino lounge. Some great fresh seafood can be found as well.

Bars
If you're looking for a place to get drink, you won't have to look long or far. Riverside bars, downtown bars, resort bars, beach bars. They're everywhere.

Western Bars & Restaurants
About 80 foreigners, as well as local Khmers have restaurants and bars in downtown Koh Kong.
A few favorites:
Otto's
Oasis
Blue Moon
Paddy's
Apex
Ea Aun
Dive Inn
Cafe Laurent
Ice Cream Shop
Thmorda Crab House
Tatai Riverfront Resort


Watch Out
It's your first day (or last) in Cambodia and you don't want to get any stomach problems. Drink bottled water, beer, hot coffee, or soda from the can or bottle only. Try one of the Western owned restaurants, and watch out for any fruits or veggies that may have been washed in regular tap water.