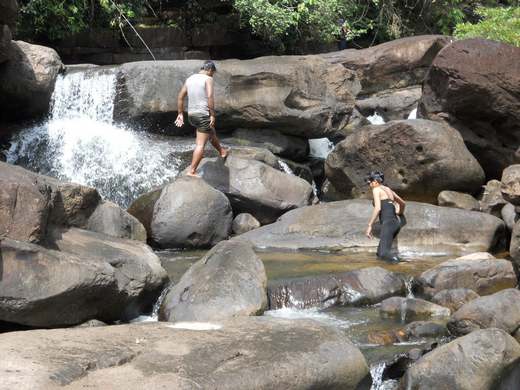 Koh Kong Wonders
All trips are done by tour boat or speed boats. Times shown are for tour boat.
A) The first one is "Rocky Falls River", Cardamon mountains National Park / junction of 2 rivers / river canyoning, swimming, exploring, flora observation... (2h00 from the city)

B) "The Lost Falls", 6.5km jungle trekking (fairly easy) / 2 waterfalls sites / local mangrove ... (1h20mn from the city).

C) "View Point Falls", 2km jungle trekking / waterfalls / panoramic view / local mangrove ... (55mn from the city).

D) "Mangrove" the largest & best keep of Asia, sanctuary visit, ..(full or 1/2 day trip)

E) "Rocky beach" Koh Kong island / 2km beach / snorkeling / entire mangrove crossing / fishermen village stopover / Peam Krasop sanctuary
We would like to inform you that we are a fairly new tours agency named "Koh Kong Wonders & Excursions", located in Koh Kong, front river road (50m from Canadian bank).

We opened on November 2015 and we offer 8 different excursions (tour boat and speed boats) all around the city.
Our specialty is the Cardamon mountains' national park with 3 great trips : jungle trekking, waterfalls, river canyoning and much more. An overnight tour in the Cardamon mountains is under project, 2 and 3 nights including: all by boat transportation, jungle trekking, waterfalls sites, mini river canyoning, wild life observation, fishing, local fishermen home stay, mangrove discovery and more...
Tel: (+855) 16 444 77 3 / (+855) 88 98 99 90 5