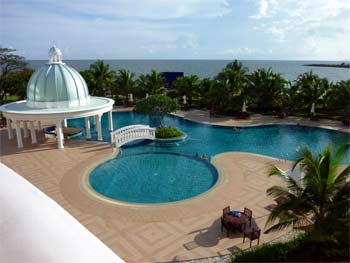 Koh Kong Resort and Casino
Right on the Thailand / Cambodia border.
Rooms from $60 to $2,500.
Includes a beautiful swimming pool overlooking the ocean.
A casino
Fitness center, Spa and Sauna
Massage
Business center
Duty Free shop
Fish Pond with private fishing
Conference and Meeting rooms
Poolside bar
Sunset bar under the Dome
Grand Restaurant
Coffee Corner
VIP Lounge
Hero Coffee Shop
Private Beach on the Bay of Thailand.
Right on the border with Thailand.