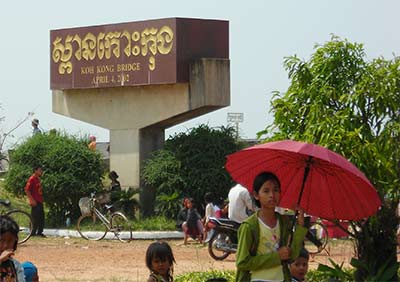 11,000 Square Kilometers
for fun and for work
More than just play
unless you're staying at one of Cambodia's largest casino / hotel, here in Koh Kong.
Industry
Koh Kong province is home to fishing, salt production, sand dredging, and lots of agricultural activities. Koh Kong city is the major business hub for all these activities.

Kuwaiti investors are planning a major agricultural project. The Thai's love Koh Kong for its casinos, and may be leasing an entire island for an entertainment complex. An industrial / export processing area is being developed, and Hyundai has an auto assembly plant here.

Tourism
Koh Kong is being touted as a major eco-tourism destination in South-East Asia. The largely unpopulated Cardamom Mountain park area, and rivers, islands, and jungle around, are largely uninhabited. The Koreans, Israelis, Thais, Chinese and a host of Westerners are planning (or already have) eco-destinations here. Riverside destinations are currently the number one choice for these locations.

Mangrove forests, jungle, mountains and rivers. Mainland coastline, unpopulated islands, and lots of tributaries fill up more than 90% of the province.

Infrastructure
Koh Kong's infrastructure is generally poor, but improvements are coming fast. A major road, between Singapore and China, going through Malaysia, Thailand, Laos, and Vietnam, has just been completed. This road mainly links Thailand to the rest of Southern Cambodian and Phnom Penh, the Capital and largest city in Cambodia.

The airport is undergoing renovations. Large water, sewer, and electrical generating plants are in the construction stage. Road development outside of Koh Kong city are going slowly, but much of this area is a National Park.

Just inside the Cambodian border from Thailand, a large, government supported industrial export zone is being established, with the usual incentives and tax breaks.

Many, mostly Asian companies are already planning, investing, and working here, relying on cheap labor and tax breaks, and good (or not) enforcement of labor laws.

Location
On the Bay of Thailand, just across the border from Hat Lek, Thailand, Koh Kong is a major border crossing for overland shipment of products. Also, a port for smaller ships from Thailand, Vietnam and Malaysia. Surrounded by islands, from less than a square kilometer, up to 80 square kilometers.

About 4 hours by road to SihanoukVille, Cambodia's largest beach resort, and 6 hours to the capital of Cambodia, Phnom Penh.